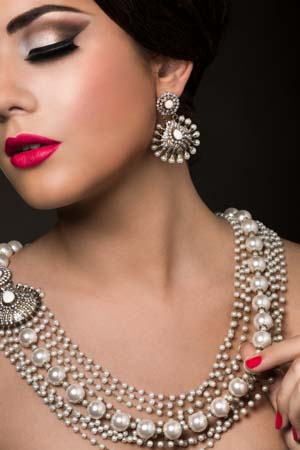 Hair & Makeup since 2008
I didn't really want to start this off with, "Hi, my name is Vin Virdi, and I am your makeup artist", but yes, my name is Vin… and I absolutely adore hair and makeup!
I have always loved makeup from a young child, I think it mainly stemmed from watching my mum putting makeup on, and remembering watching her with such admiration, and thinking to myself, I really can't wait to put on makeup when I get "older". The best thing about makeup is that it can be timeless and can evoke many memories, it is one of those things that will be passed down from mothers to daughters, from sisters to sisters, from friends to friends. I particularly remember one eyeshadow palette that my mum had, it was a St Michael's one (which of course is Marks & Spencers now), and I remember thinking to myself that it felt like it had all the colours of the rainbow in it, and being totally mesmerised by all the different colours!
I'm not going to bend the truth, I absolutely love buying makeup, and I could buy makeup all day long if I could! But I also love wearing it, and more importantly I love applying it on other women. I started my makeup and hair training in 2008, and have not looked back since. I love using a variety of makeup brands, but my favourites being Illimasqua, MAC, Hourglass, Chantecille, Estee Laudee and Laura Mercier.
You may ask yourself, "Why Vin?" when there are many makeup artists out there. First of all, I love working with thin layers of makeup, it gives an amazing and professional finish to the look and feel of the makeup, I definitely do not believe in "more the better", it really couldn't be further from the truth. It's all about playing on your best features, and making them as beautiful and flawless as possible. It is definitely best to get a good balance of makeup which is applied to the face; sometimes concentrating on one area of the face (i.e. eyes or lips) gives the maximum effect without looking "overdone". I love to concentrate and spend time on the skin, making it flawless as possible, and once you have this right, anything is possible.
On the hair side of things, I love the creativity you can have with it! As with makeup, it is all about getting the right balance, your head and face shape will have a part to play in what hairstyle will look best on you. An awesome hairstyle can make you look and feel a million dollars.
I have been described from past clients as being, punctual, professional, a friendly face, someone to calm down even the most nervous bride, and I've been lucky enough that quite a few of my clients have become really good friends of mine.
I really hope you enjoy what you see. Please do get in contact with me; I would really love to hear from you!
Lots of love, Vin